So yesterday, the hubs took the three kids out for the day (not sure where, I haven't asked yet) and I got a whole day to myself to do whateva I wanted.
So what do I do, you ask? Cleaned the house, vaccummed, washed floors! Yeap, that's what I did for the first couple of hours. And then, I went out!
I ended up at Goodwill first.
A Birdhouse!! I've been looking for one for-ev-er!!
The little door says "CHATEAU".
Isn't it cute?
I popped into the grocery store and found this Orchid. Isn't she purdy? I was thinking of popping her in that apothecary glass right behind her. Do you think she will be ok in there? I don't to kill her... yet. (cause you know I will)
There they both are on my buffett! hmmm... I'm gonna have to play with THAT look! The scale is really off.
I'm linking up to: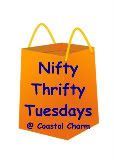 So now I need your help!
What colour should I paint the bird cage?